Thursday April 7th 2022 | 05.30 pm (CET) | via Zoom
Anuj Shah, Ph. D. | Senior Machine Learning Research Practitioner at Netflix |
Click here to register for the meeting:
https://zoom.us/meeting/register/tJYvdO-gqzMiEtKOfNIgcZAZOQ8jA3i_b3Pi
Abstract:
Recommendation systems today are widely used across many applications such as in multimedia content platforms, social networks, and ecommerce, to provide suggestions to users that are most likely to fulfill their needs, thereby improving the user experience. Academic research, to date, largely focuses on the performance of recommendation models in terms of ranking quality or accuracy measures, which often don't directly translate into improvements in the real-world. In this talk, we present some of the most interesting challenges that we face in the personalization efforts at Netflix. The goal of this talk is to sunshine challenging research problems in industrial recommendation systems and start a conversation about exciting areas of future research.
Bio: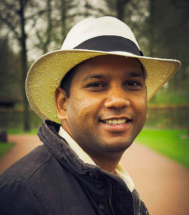 Anuj Shah is a Senior Machine Learning Research Practitioner at Netflix. For the past 10+ years, he's been working on an applied research team focused on developing the next generation of algorithms used to generate the Netflix homepage through machine learning, ranking, recommendation, and large-scale software engineering. He is extremely passionate about algorithms and technologies that help improve the Netflix customer experience with highly personalized consumer-facing products like the Continue Watching row, the Top 10 rows amongst many others. Prior to Netflix, he worked on machine learning in the Computational Sciences Division at the Pacific Northwest National Laboratory focusing on technologies at the intersection of proteomics, bioinformatics and Computer Science for 8 years. He has a Ph.D. from the Computer Science department at Washington State University and a Masters in C.S. from Virginia Tech
https://www.aau.at/wp-content/uploads/2018/01/News_InfSys-1.jpg
299
328
Birgit Merl
https://www.aau.at/wp-content/uploads/2015/09/aau-logo-300x110-300x110without-background3-300x110.png
Birgit Merl
2022-03-10 13:28:23
2022-03-10 13:29:20
Trends in Recommendations Systems – A Netflix Perspective